7 Trends And Opportunities In Thailand's Emerging Automotive Market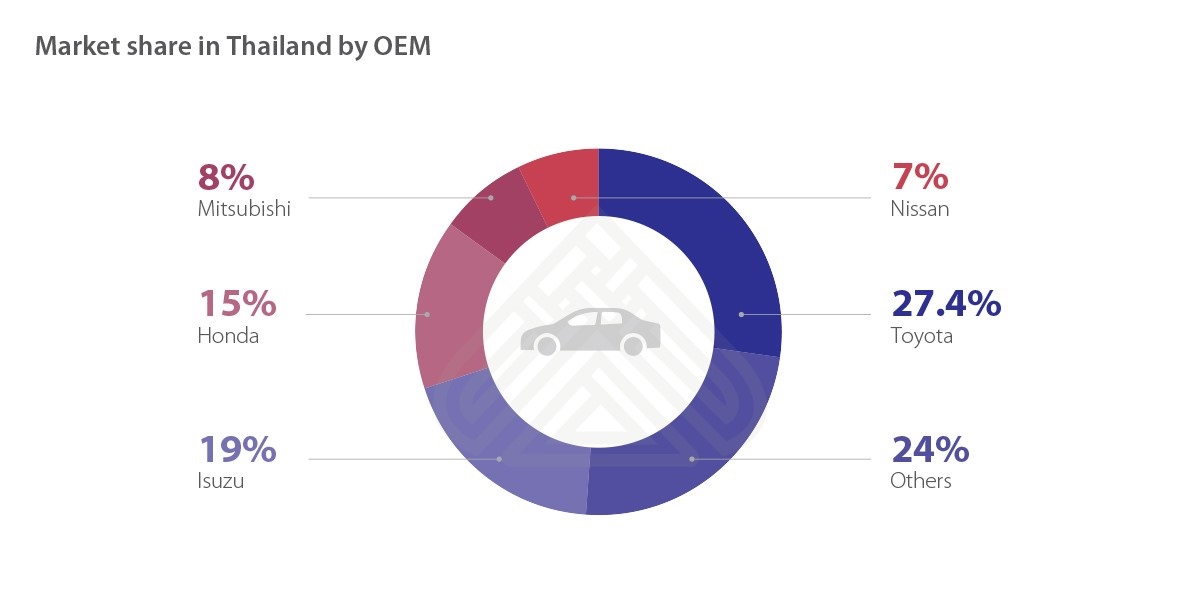 With the best automotive supply and logistics chain as well as impressive production figures for both export and domestic markets, Thailand continues to stand out and dominate the hub within South East Asia. The underlying trend suggests a promising growth path that is coming back, even though the industry has suffered significantly in recent years. Thailand is dominated by one-ton pick-up trucks but it is slowly moving towards SUVs and eco-cars. In recent years, Thailand has witnessed a sharp decline in new car sales. Both the dealers and the OEMs have seen a decline in the profit margins within the new vehicle sales business. This makes the after-sales business important in the efforts to maximize profits and revenues across the industry.
The OEMs' market share is at risk as Thailand is experiencing significant change within the after-sales market. The changes in customer behavior have given rise to a need for new and existing players who have to re-examine their after-sales business model, according to the industry report, which has featured the trends and opportunities within the Thai automotive after-sales market. Developing stronger revenue streams that are bringing the aftersales market into a greater focus is the main goal of many automotive component manufacturers and OEMs With an increasingly affluent middle-class population, the number of used car sales is expected to grow with a Compound Annual Growth Rate (CAGR) of 5.5% due to an unexpected decrease in used car prices. The top trends and opportunities in Thailand include:
Connectivity
Today, vehicles have a tamper-proof digital identity. This enables them to be differentiated from other vehicles in the network. This has enabled easy tracking of vehicular data for various cases such as fleet management, driver safety, insurance, and predictive management.
Artificial Intelligence
Within the automotive industry, artificial intelligence technologies such as deep learning, computer vision, and machine learning find applications in robotic automation. This guide manages fleets, assists drivers to improve safety, insurance or vehicle inspection, and self-driving cars.
Human-Machine Interface
There will be a fundamental change in how drivers interact with vehicles like in self-driving cars and connected cars that transform the automotive landscape. The HMI uses haptic feedback or voice-based to operate vehicles. This makes driving more enjoyable and safer as it will expand the scope of what and how aspects of a car that users control. The smart virtual assistants who help riders and drivers interact with other service providers and vehicles is another form of HMI.
Internet of Things
This has enabled secure communication between vehicles as well as vehicles and infrastructure components. This technology solves traffic congestion, reduces pollution, improves road safety, and reduces energy expenditure with better fleet management. There are developed advanced sensing technologies by emerging and startup companies that gather more data about the vehicle. They also allow the vehicle to understand its surroundings. This technology automates payments for tolls and fuels.
Blockchain
This includes sharing vehicle data over a secure network for shared mobility solutions such as urban transportation, ride-hailing, and deliveries.  Moreover, it makes sure that the raw materials and spare parts are only sourced from trusted and legal sources.
Shared mobility
It is an alternative to traditional vehicle ownership. This discourages unused vehicles and enables mobility-as-a-service (MaaS). Such solutions meet the requirements of a business or city without adding new vehicles, therefore, reducing pollution caused by diesel or petrol vehicles and reducing waiting time for fleets.
Autonomous Vehicles 
Self-driving vehicles or AVs aim to minimize the need for human drivers who are poised to transform everyday transportation. Last-mile deliveries and reduced downtime expand the scope of fleets of AVs. Their main aim is to make public transportation relatively safer. Accidents caused due to driver negligence or fatigue are reduced. The AI-enhanced computer vision is equipped with advanced recognition technologies so that the AVs can help identify obstacles along the route.
Conclusion
When dealers sell car that are equipped with features like robotics, hybrid vehicles, and automotive sensor technologies they transform the automotive industry in Thailand. Identifying emerging technologies and new opportunities to implement into the automotive industry early goes a long way in gaining a competitive advantage. The push for driverless cars and electric cars is strengthened by advancements in IoT and machine learning. A major driver of the Thai economy that contributes to about 10-12% of the GDP, the automotive sector in Thailand encompasses the local and foreign companies of the entire car-production supply chain.